February 2 / 10:00 - 18:00 CET
EU Open Source Policy Summit 2024
10 Years of OSS Policy Impact
10Save the date for the 10-year anniversary of the OpenForum Europe's EU Open Source Policy Summit, taking place on 2 February 2024, just before FOSDEM. The Summit is the world's largest assembly of policymakers, Open Source businesses, community members, developers, foundations, and experts engaged in diverse digital policy matters.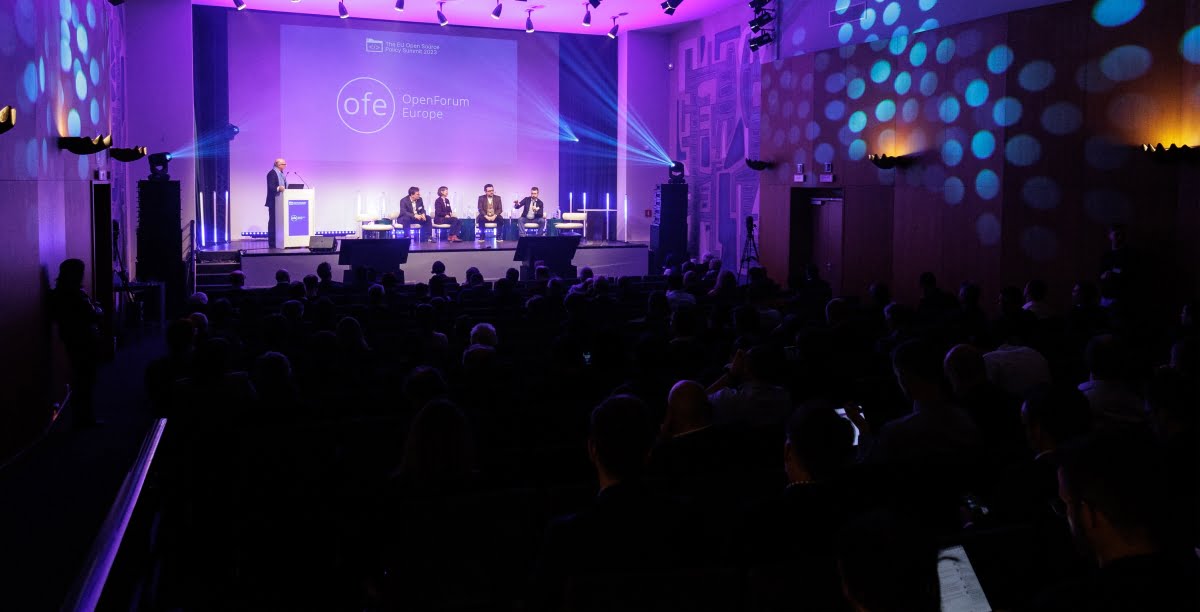 Europe in the World of Open Source
Whilst Europe has championed open source for a decade, collaboration now spans continents. Worldwide infrastructures, from digital payments to large language models, emerge, urging avoidance of duplicated efforts. Europe can learn, lead, and bridge gaps in policy, culture, and technology, but should not do this alone. Navigating open source's responsibility is pivotal, as Europe absorbs insights and pioneers solutions globally.
Open Source AI
Open source holds the potential for a decentralised, highly competitive, user-centric AI market where Europe takes the lead. We want to explore how the concept of "open" in AI manifests in real-world applications and how it can enhance European competitiveness while reflecting our core values. As AI systems become increasingly intricate, what does the global perspective say about the true meaning of "open"? The discussion delves into the role of 'open' regarding data access, model complexity, and specialised infrastructure, ensuring genuine inspectability and replicability. Furthermore, what threats might a closed AI ecosystem present to the European market and its citizens?
European Competitiveness
From its influential role in creating a competitive European industrial base through IoT, big data, and machine learning, to its potential in reshaping SME strategies for exponential growth and agility, the open source innovation and scaling model presents unparalleled opportunities for Europe. What is the significance of open source in fostering talent and a skilled workforce? We will also reflect on the broader economic implications of open source, its role in entrepreneurship and innovation, and its influence on organisational strategies and workforce dynamics in the European context.
OS Foundations' Role in Public Policy
Open source foundations are not lobbyists, but they are critical stakeholders in the open source ecosystem. How do they look at their role in the policy conversation? As the regulation and institutionalisation of the software market gains momentum, and with heightened attention from governments across the world, we want to delve into how we can shape an open source ecosystem that takes responsibility for interactions with governments and supports our society to create value for its citizens from open source?
Public Investments
Should the European Union heavily invest in open source with billion-dollar commitments? We will investigate the economic arguments for governments to think a lot more ambitiously and strategically about open source. It could stimulate growth and competitiveness, positioning Europe at the forefront of global tech. And there are vast opportunities to build digital commons, bolster cybersecurity, enhance trust and digital sovereignty, resonating with European digital rights. However, careful consideration is needed: is government investments the answer? What about more private investments into sustainability? We hope to contextualise the arguments for and against government investment with a comparative discussion of how investments would interplay with regulatory developments globally.
Security and Resilience
As global digital threats evolve, the interplay between open source stakeholders and governments becomes increasingly vital. Beyond current discussions around the CRA and PLD, we must strategise for the long term. The formation of security-focused Open Source Program Offices (OSPOs) by governments marks a progressive shift, indicating recognition of the indispensable role of open source for cybersecurity. Events like the Open Source Security Summits in Washington DC further spotlight this synergy. How can open source communities and governmental bodies build a secure and resilient digital framework for the future?
Geopolitics
Open source stands as the bedrock of our internet infrastructure, personal and governmental software, and the driving force behind tech companies' innovation. Are the geopolitical implications of this fully appreciated in Europe? The geopolitical aspect becomes more pronounced when examining international dynamics. Recent US legislative discussions around RISC-V technology highlight the challenges; policymakers are debating whether open source semiconductor designs could potentially circumvent US dominance, hinting at the broader complexities of open source in the realm of export controls and national security. Nations like China, the US, and several European countries are intertwining their national security, international influence, and digital sovereignty goals with open source.
About the event
The overarching policy message of this conference is an important one: strategic use of open technologies and Open Source in particular play an important role in solving digital policy challenges. The opportunities "openness" brings come in the form of decreasing vendor lock-in, increasing the resilience of the systems in question, while also boosting competition and innovation. 
Open Source has reached the level of policy maturity that brought significant attention to topics relating to open technologies in the Cyber Resilience Act and the AI Act, the need for openness for interoperability in the Interoperable Europe Act, and other policy initiatives around the globe.
Policymakers once viewed Open Source as a niche, hobby activity. Now, Open Source is everywhere and there's a strong will to connect and discuss the current and critical issues of digital with stakeholders. The EU Open Source Policy Summit is a place where policymakers expect to hear the voices of the most innovative drivers of the change to open.
Take a look at the sessions and recordings from the 2023 Summit. More details about the 10-year anniversary will be presented in the coming months.
Sponsorship options
Open Source Policy Summit is the only global conference of its kind. Take advantage of our sponsorship options to showcase your organisation's commitment to Open Source and digital innovation. Reach out to us to request a prospectus!
Open Source Policy Summit is the only global conference of its kind. Are you interested in sponsoring this event? Contact summit@openforumeurope.org